The Chapel of Saint Aftimios of America
Archbishop Aftimios Ofiesh of Brooklyn.
Saint Aftimios of America, Confessor.
Memory Eternal !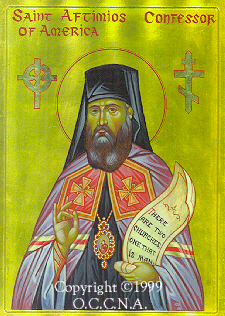 "There are two churches, one that is man-made with man-made laws.
It is corrupt, false and misleading.
It denies the will of the Living God, that reveals itself to the heart of man.
It makes slaves and bond-servants of those who choose to obey it.
There is another church, the only one for me, for it is the Church of Jesus Christ,
imbued with His Spirit, attentive to the Word and Will of God.
That is the Church I recognize." ~ Saint Aftimios, in a letter to the Editor of the Syrian World, June 12, 1933.